About Dog Pad Bed'n'Biscuit
Tory grew up with 12 dogs. Her parents hunted, bred and showed Irish Setters, English Setters, Labs, and English Pointers. Tory went to college in Bozeman Montana and graduated in 1996 with a Biomedical Engineering Degree. She moved to Minnesota in August 1996 and started working for a start-up company and conducted their animal studies.
In 1999, Tory bought her first house ... 3 weeks later she got her very own yellow lab "Zeke"
-- a certified therapy dog, and canine good citizen. In 2000, she started working for St. Jude Medical. In 2001, she acquired her second dog, "Zo Zo," a certified therapy
dog and canine good citizen.
The next year, she started managing the Minnesota Horse & Hunt Club's Boarding Kennel.
In 2004, Tory bought 8 acres of land with future plans to open a dog day care. She went back to engineering that year, but "missed being with her dogs." She had added Griggs, her adopted redbone coonhound to the pack by then.
In August 2004, Tory opened Dog Pad "where dogs can be dogs!" Dog Pad has now been open 8 years, and is running at full stride averaging 20-25 dogs per day. We've also added 3 part-time employee's to make sure all canine clients are getting the one on one attention and supervision that Tory herself gives all the Dog Pad Dogs.

Tory met Mike at MHHC. He's a dog lover, die-hard hunter and added 2 more dogs to the family. "Winnie" crossed the rainbow bridge in November 2007. The pack now consists of ZoZo (Labrador), Griggs (Coonhound), the German Shorthairs: T-Bone and Roo and BB. Mike and Tory sometimes have trouble finding room on the couch for themselves.
Mike and Tory love to run their German Shorthair Pointer dogs in competitions and often do quite well. Roo WAS the newest Mascot but now has been bumped by BB. BB is short for Bit of Bones because he is an offspring of Tbone the master hunter.
BB Copilot
BB US OPEN
Boys 2015 Pheasant Season
---
The Newest Mascot is Bad Bad LeRoy Brown- "LeRoy"
After going thru one whole season of coon hunting without a hound and endless hours of looking at redbone coon hound puppy pictures Tory finally talked Mike into a new addition to the family. Meet Bad Bad LeRoy Brown!!! LeRoy came to us from southern Indiana from a true hound breeder as both his parents are Grand Night Champions! LeRoy is just 4 months old in most these pictures but is already proving himself both in the woods and as a family companion. The true houndyness that we always thought was just Griggs being silly is 100% breed into them!!! Tory is one happy hound mom and laughs at this little guy everyday. Stay tuned for more funny pictures and video's as LeRoy grows! Welcome to the Dog Pad Family LeRoy!!!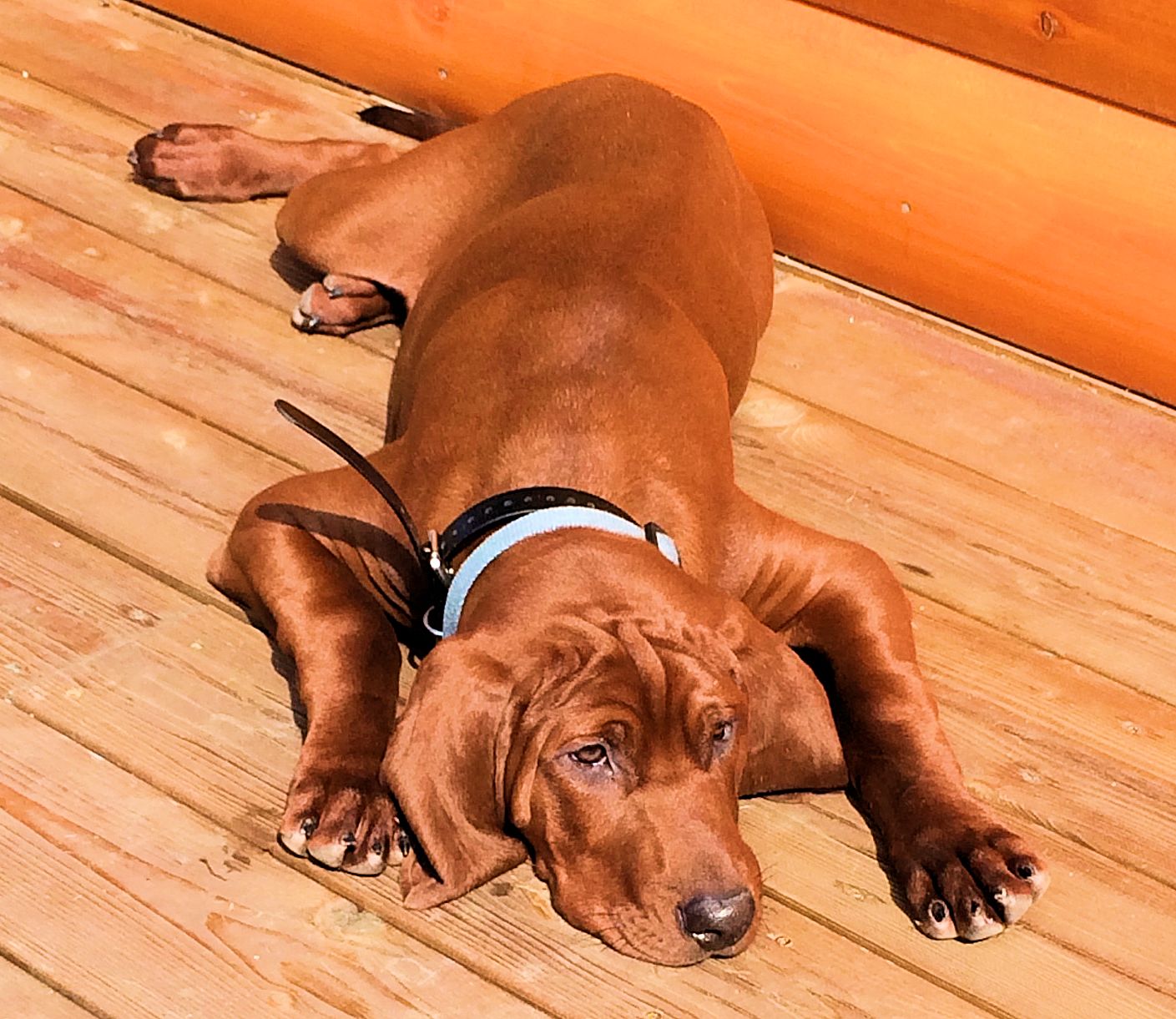 ---
Here are some pictures of all 4 Dog Pad Mascots !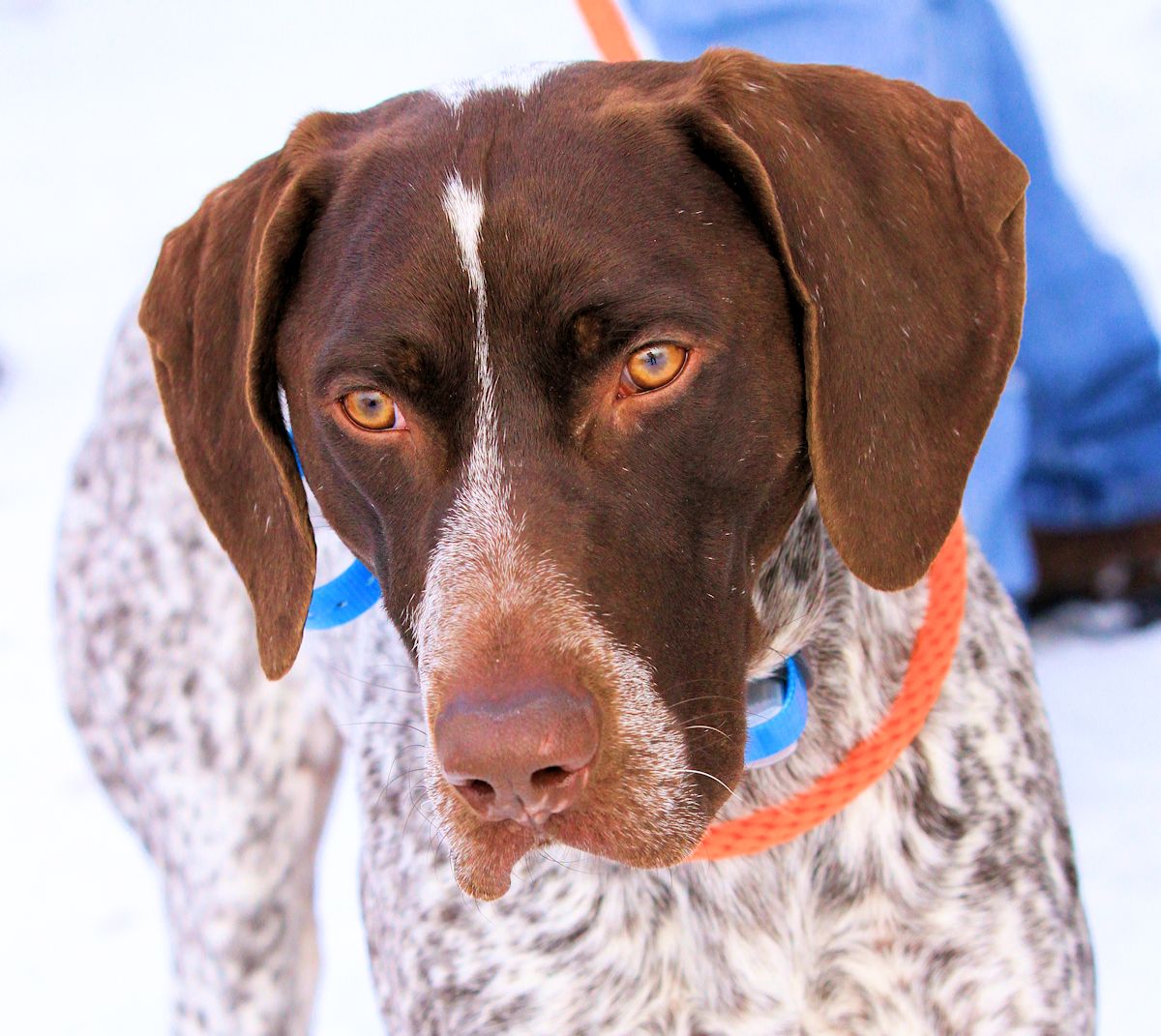 BB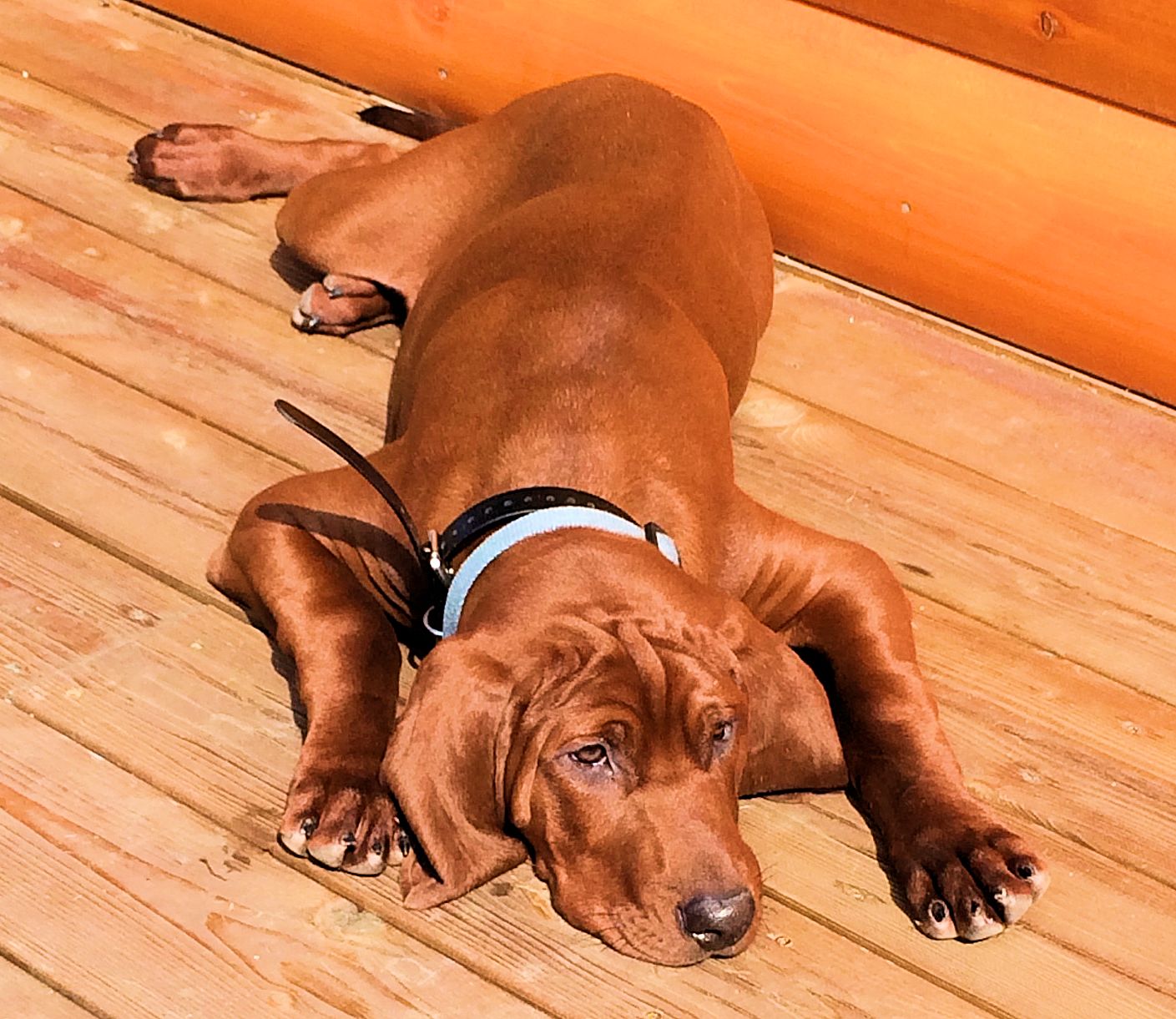 Leroy
T-Bone
Roo
---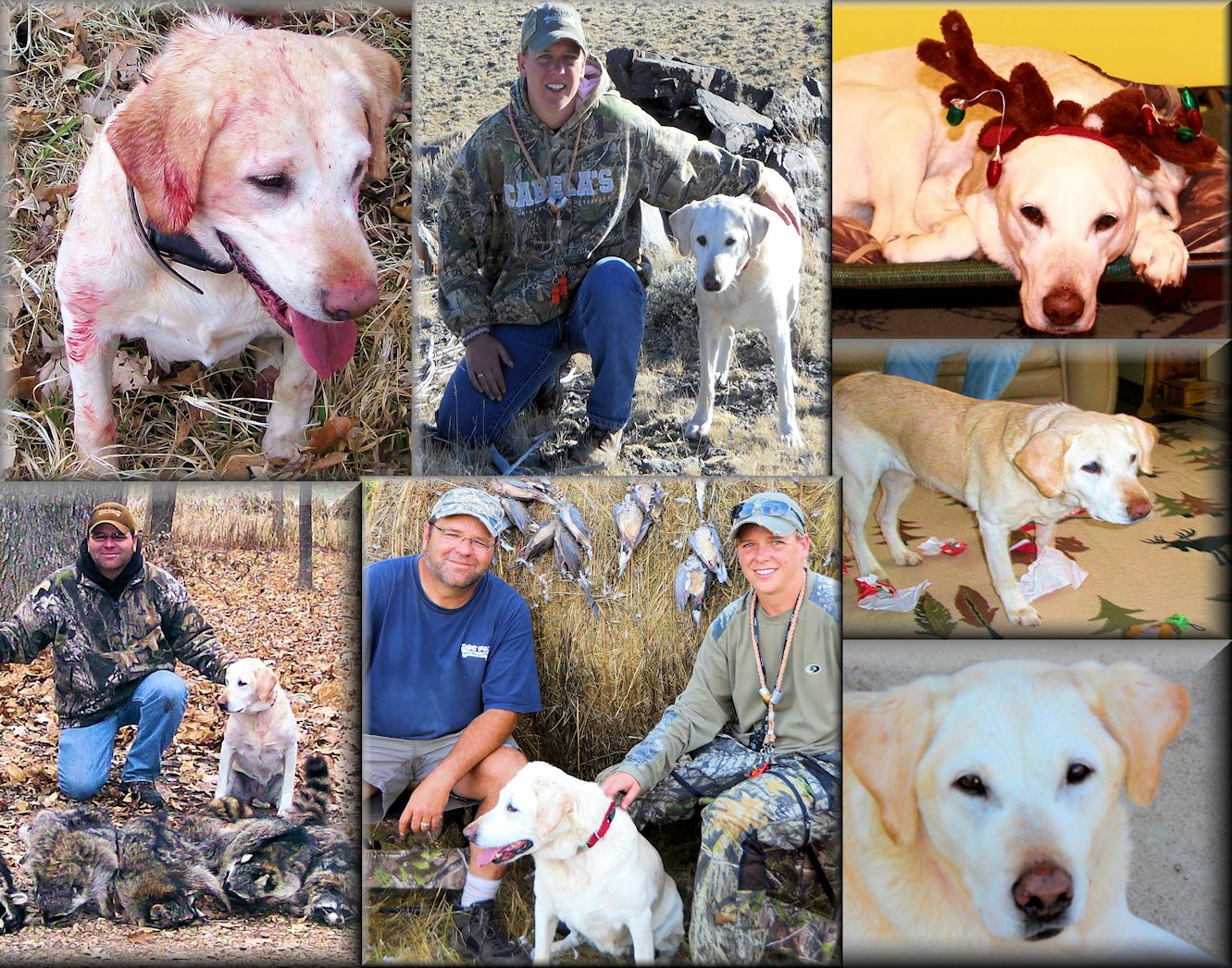 RIP: Great Northern ZoZo 1999-2013
ZoZo aka- "Monster" was a one of a kind yellow lab. Tory never knew that a dog could be 100% loyal to their owners until ZoZo proved it. She truly did everything in her power to please Tory & Mike. She was an excellent bird dog, family companion, and crazy enough partner in crime with Griggs in the dark evening coonhunting! The many memories of awesome retrieves, belly rubs, and anything to do with food always makes us smile! Thanks you ZoZo for being a wonderful companion in and out of the field you will never be forgotten and we will always be telling stories of how you made us smile. We miss you so much!!!
---
RIP: Griggs 2001-2014
Griggs found Tory back in 2001 when she was managing the Horse & Hunt Club Kennel. It seemed no one wanted to claim "Bozo" at that time and the guides didn't want him howling in the club kennel so after a week of endless searching for his true owners "Bozo" who was later named Griggs choose Tory as his new owner. At first Tory thought she was crazy as she is a bird dog person not a hound person and she quickly learned that everything from their behavior to the way they learn things was way different. Griggs eventually figured out that Tory was persistant in her training and he turned into a great family pet. When Mike and Tory met Mike couldn't understand a coon hound that didn't like coons so the training began again. After several months (seemed like years) Griggs figured out that hunting for what he was breed for was actually fun and he strutted around the other Dog Pad Mascots at night when he got to go out hunting and they had to stay home. ZoZo weaseled her way along as her and Griggs decided they were a good pair if a ground battle should arise. Griggs aka "Big Red" was a true clown at heart and a day didn't go by that he would do something silly to make us laugh. Thanks Griggs for finding me and becoming a part our lives you truly will be remembered in a special way.
---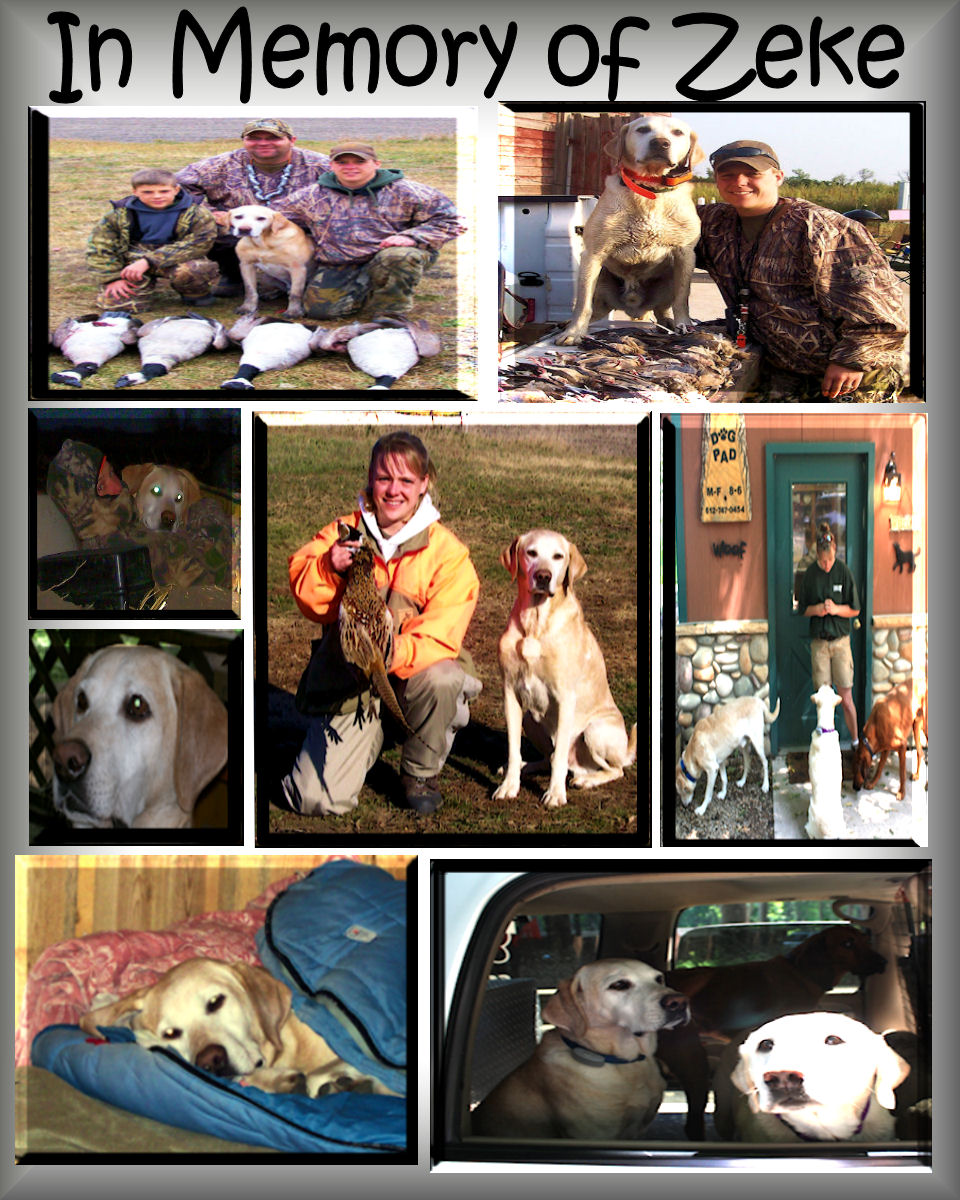 RIP: Great Northern Zeke 1998-2011
Zeke is the main reason Dog Pad is in existence today. Being Tory's first dog it was too hard to leave him alone for 12-14 hours a day while Tory worked as an Engineer. Zeke throughout his 13 years of wonderful life was a true companion to Tory & Mike. Giving us many laughs, heartache, and proud smiles with his great carefree attitude in an out of the field. Being the first official "kid" of Tory's he was always held to higher expectations than the rest of the pack and never let us down. Here are some great pictures of Zeke that Tory and anyone that knew him will never forget. Thanks Zeke for unconditional love, companionship, and for leaving us with great memories and your paw print on our hearts!
---
About Dog Pad Dogs; The business, the Customers and the Fun.
Dog Pad, a Bed-n-Biscuit Doggy Daycare Business;
serving the southwest metro area is definately a place "where dogs can be dogs!"
Owner Tory Kretsch opened her business 6 years ago when she moved into a beautiful eight acre property in Sand Creek Township, eight miles west of Prior Lake.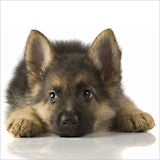 She has over 35,000 square feet of cageless indoor and outdoor play area for the dogs, a carpeted loft area complete with dog beds for sleeping, seperate batch facilities and a large fenced in play yard.
Her biggest asset, however is her real love of animals! "I love all animals, especially dogs!", said Tory. She provides free pick up and delivery of her daycare dogs, one of the only facilities in the area that provides this kind of service. One customer, Bev Lucarelli of Shakopee, states, "My dog Riley Watches for Tory in the morning - roaming from the patio window to the front windows because he's never sure which way she will come. I still can't believe he gets picked up and dropped off every day. What a wonderfull Service!!"
The dogs play and exercise in both the large indoor facility and the outdoor play area. Tory spends a good deal
of time playing with the dogs. In the summer she provides FREE baths when needed. "The first hour of the day is so chaotic because the dogs are so full of energy," Tory says of her doggy customers, "but by 3 p.m. they're all tired."
Rebecca Olsen of Belle Plaine agrees, saying "Gunner (her dog) has come home so tired, that he was falling asleep sitting up in the car."
Tory has an average of 18-24 dogs a day for daycare;
and the bed-n-biscuit clientele varies by season.
Tory encourages people with spring breaks coming up to consider giving their dog a "Spring Break" also when they go out of town.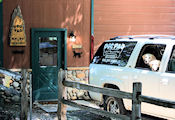 Tory runs the business along with 3 part time employees that help to shuttle the dogs home and provide supervision in the play yard and also feed and give baths. Tory lives on the premisis and is on call 24 hours a day. We have cameras with sound in the dog facility that alert her to any problems or concerns with the dogs at night. "I make sure that the animals I care for are social animals that can play with others, so the dogs all get along fine," she explained. All dogs must have full vaccinations before she cares for them.
Animals and their owners are happy and satisfied customers. Margaret and Nick Walker of Shakopee sum it up the best by explaining, "Our dog Dina loves Tory and Dog Pad.
She knows where she is going in the mornings and can barely wait to see Tory. Sending Dina to Dog pad has also definately improved her social skills." Walker continues, "Dina has very bad hips and going to Dog Pad each day has helped her strengthen her muscles and keep her active and healty. We trust Tory and wouldn't send Dina anywhere else!"