Dog Pads K-9 of the Month
July 2016: &nbsp Harlee &nbsp-&nbsp Yorki
Harlee belongs to the Ibberson family of Prior Lake. Even though he is usually the smallest one here don't be deceived as usually he runs the show around here. Harlee likes his hide out spot up on the loft where he can supervise all inside play. Outside playing ball he tries to keep up with the labs but his short little legs make it tough so he does some barking distraction techniques to get his fair share of retrieves. Harlee loves to give kisses and Tory is always willing to take as many as available. Thanks Ibbersons for letting Harlee be a Dog Pad Dog!!
June 2016: &nbsp Joey &nbsp-&nbsp Blue Heeler mix
Joey belongs to the Major family of Jordan. Joey is a little ball of energy and truly loves every other dog he comes into contact with. Joey isn't much of a ball player but if he can get any other dog to chase him all day he is truly smiling from ear to ear. Joey comes to daycare to wear some his energy off and according to the Major family it truly is working as he is a snuggle bug on the evenings after a full day of play. Thanks Major's for letting Joey come do hot laps around Dog Pad we love watching him for you!!!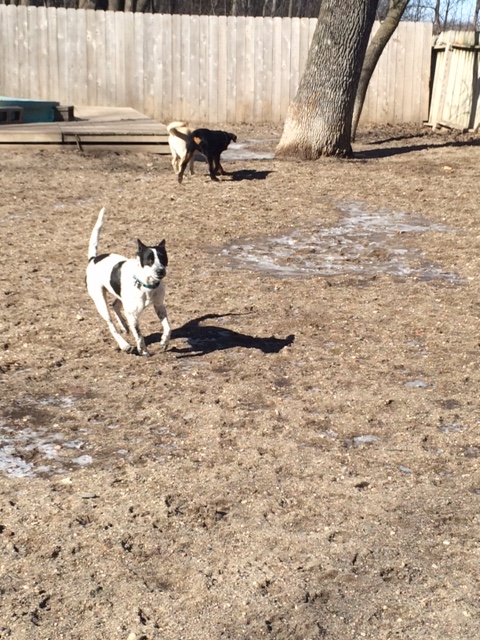 May 2016: &nbsp Maya &nbsp-&nbsp German Shorthair
Maya belongs to the Peterson family of Prior Lake. She is a true hunting dog and sort of pouts when she comes to Dog Pad instead of to the hunting field. She loves being outside suntanning on the pool deck and playing chase with the numerous puppies! She is also one of Tory's favorite snugglers as she loves her ears rubbed and walking between your legs to get the full body scratches. Thanks Petersons for sharing an amazing hunting dog and family member with all of us here at Dog Pad!!!